CORONAVIRUS (COVID-19) STATEMENT
We continue to closely monitor the situation surrounding the COVID-19 pandemic and are following the recommendations of The Center for Disease Control and state health departments.
We offer same day appointment service for urgent medical needs and for allergy injections for our established patients. The two services are:
ReadiClinic® is a same day appointment service for established patients experiencing

 

urgent health needs. Hours are 8:30 – 11:30, M-F, in the Overland Park office only. ReadiClinic® is for patients experiencing urgent symptoms who don't have an appointment. We encourage you to call ahead to secure a

 

specific appointment time as we often can fit you in that same day.
Allergy Injection Clinic is for patients to receive their

 

weekly allergy shots. Check

 

HERE for hours since they vary by location.
Please note that temporarily, we are imposing the following restrictions on both same day clinics.
You cannot visit if you have a fever.
You cannot visit if you have COVID-19.
If you have had a fever, you must call to review your situation with a nurse before using either clinic.
We want to remind you that it is important that you keep your underlying medical conditions under control.  Poorly controlled allergies increase the risk of contracting any respiratory virus, as these are contracted when people rub their nose or eyes and spread to others by sneezing.  Poorly controlled asthma is a major risk factor for poor outcome.  Spirometry combined with medical history and exams are the best way to ensure your asthma is optimally managed and to make sure that you have a plan of action for when you get any viral illness.
Please be reassured that the health and well-being of our patients and staff continue to be KCAA's top priority.  We have taken many steps to keep our office as safe as possible.  These include:
Screening patients for fever.  Anyone with a fever within the past 48 hours is not permitted in our office. This is for the safety of other patients.
Limiting visitors. Please make every attempt to only bring the patient unless no other option exists.
Removing all magazines and reading material from our waiting rooms and exam rooms.
Sanitizing our waiting room every 30 minutes.
Having our staff wear personal protective equipment for the safety of patients and staff.
We ask that patients bring their own mask that covers both nose and mouth to wear during the entire KCAA visit.
WE OFFER TELEMEDICINE VISITS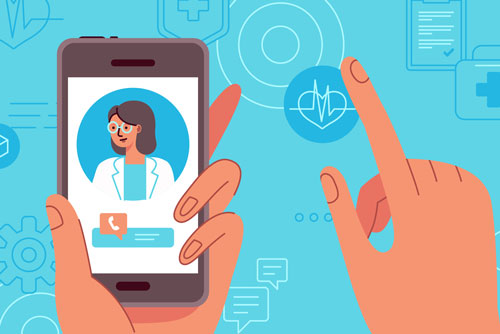 Follow these easy steps for a Telemedicine appointment
Call (913) 491-5501

 

to schedule
We provide an appointment time and

 

doxy.me

 

web address via text
Any browser works

 

except

 

Internet Explorer
Use a device with a camera and microphone
Click on the provided

 

doxy.me

 

link
Enable the microphone and video on your device
If you are early, your clinician's name and "offline" notice will be displayed
Wait 10 minutes as clinician may be running late
Call (913) 491-5501

 

if experiencing long wait time
The message function

 

only works when the clinician is connected
Ending the session to call will not lose your appointment time